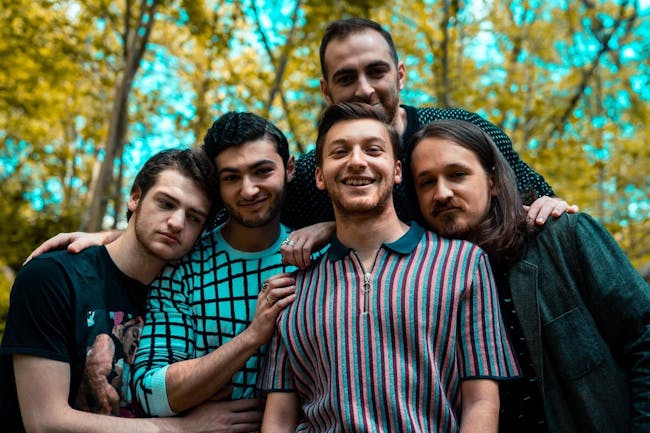 Z by Z
The Lounge at World Cafe Live
$10.00 - $12.00
Sales Ended
Z by Z with Tioga and Nematode at The Lounge at World Cafe Live in Philadelphia, PA – Tickets Available
Z by Z
With moves like jagger, hypnotic hooks, and a robust, contagious energy, Z by Z has been turning heads with their cutting-edge brand of indie music that mixes elements of pop, rock and soul. "Philly pop outfit Z by Z is dialed in and ready for commercial radio rotation," said WXPN The Key editor John Vettese, "This band has hooks, hooks, and more hooks."
Formed by singer/songwriter and American Idol Season XV contestant Harrison Cohen, the band is comprised of Chris Baglivo, Braxton Carter, Harrison Brietling and Instagram influencer Dan Silver (@thedrummingbeat). Their sound can be described as a mix between Arctic Monkeys, Maroon 5 and The Kooks with influences ranging from Daniel Caesar to Paul Simon.
In October 2017, Z by Z performed their song "No Time" on iHeartRadio's Radio 104.5 FM. Within the past few months, the band has released three EPs with their song "Miss Mystery" amassing 40K+ Spotify streams. Z by Z has spent the past year performing across the east coast, including a sold-out show at PhilaMOCA in December 2018. Cohen's songwriting has garnered praise from platinum recording artists such as Jennifer Lopez and Keith Urban. After hearing "No Time," Lopez commented, "I really liked it, I felt like I could hear that song on the radio."
TIOGA
TIOGA is a modern Alternative Indie Rock band hailing from Philadelphia. Growing into their current lineup in 2017, the quartet composed of Greg Adams (vocals & guitar), Derrick Dieso (guitar), Austin Paragas (bass & vocals), and Henri Tyler Brooks (drums & vocals) established a blend of new wave indie rock and "a danceable sound that lies somewhere between 80's goth-pop and modern indie/synth-pop," having been likened to "early 2000's new wave revival acts."
Channeling influences from the likes of The 1975, The War On Drugs, and Bleachers, TIOGA exudes a young confidence that is demonstrated through their discography and translates to their energetic live performances. TIOGA's discography includes Sycamores EP (2016), Circadian EP (2017), Lodestar (2018), Lodestar: Acoustic Remixes (2019), and singles "Suffer" and "Break Me In" (Summer 2019).
Nematode
Nematode is a psychedelic rock band comprised of musicians Aaron Mughannam, Larry Flatley, Kazim Zaidi, and Jem Seidel in West Philadelphia. Nematode's sound is spacey and synth-driven, influenced by artists such as Pink Floyd, Radiohead, and Tame Impala. They debuted with their first single "Be Free" in early 2018, and have been consistently performing breathtaking live sets since. The band has spent the past year hard at work in the studio, and will be releasing fresh material throughout 2020. Nematode is an artful, whimsical culmination of each member's creative energies. Together, they are an artistic force to be reckoned with. song.link/nematode

Venue Information:
The Lounge at World Cafe Live
3025 Walnut Street
Philadelphia, PA, 19104