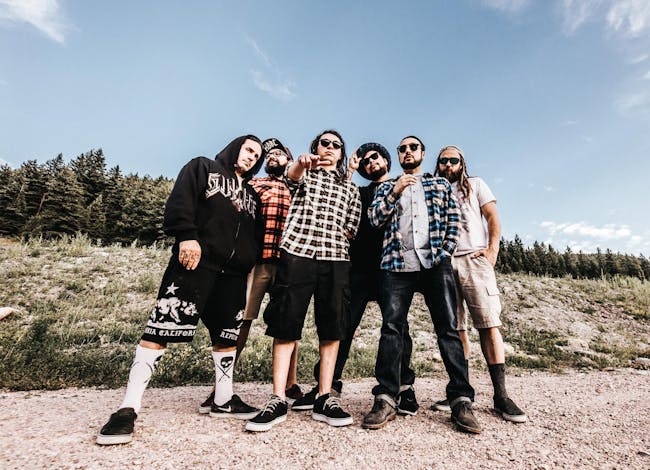 Tribal Seeds
Tropidelic, New Kingston
World Cafe Live Philadelphia
$27.00 - $30.00
Sales Ended
Tribal Seeds with Tropidelic appearing at World Cafe Live in Philadelphia, PA - Tickets Available
Tribal Seeds
Based in San Diego, rock-reggae band Tribal Seeds come at their music from a different angle, more influenced by bands like Steel Pulse and Aswad than the common touchstone of Sublime. Formed in 2005 by the Jacobo brothers, singer Steven and producer Tony-Ray, the group issued its debut album, Youth Rebellion, that same year. The album was the first of many to be released on the group's own label, including a self-titled album in 2008 plus The Harvest from 2009. The Soundwaves EP followed in 2011, while 2014's Representing cracked the Billboard 200 albums chart. The album featured guest appearances from Don Carlos, Mykal Rose, and Midnite's Vaughn Benjamin.
In March 2017, Tribal Seeds won the San Diego Music Award for Artist of the Year. A new single followed, entitled "Rude Girl" which debuted among iTunes Hot Singles in the Reggae genre. The band is currently recording their fifth full length album, schedule for release in early 2018.Tribal Seeds have toured throughout the United States, and have also performed in Mexico, Aruba, Tahiti & Peru. They have shared the stage with artists such as Dave Matthews Band, Jack White, Red Hot Chili Peppers, Jane's Addiction, Skrillex, MGMT, Cee Lo Green, Jason Mraz, Matisyahu, Sublime with Rome, Taking Back Sunday, O.A.R., Pretty Lights, Steel Pulse, The Wailers, Julian Marley, Stephen Marley, Gregory Isaacs, SOJA, Rebelution, Pepper, and many more.
Tropidelic
"Every single second is a blessing if you count them all," sings frontman Matthew Roads. You can hear the sincerity in his voice; the joie de vivre that oozes from everything Tropidelic does is apparent. When they take a stage, their synergy flows member to member—horns blow, knees kicked high and grins are passed from one man to the next. Almost immediately, it spreads to the crowd, lifting hands in the air as their feet begin to move. The pulse collectively becomes that of one.
The six-piece band from Cleveland, Ohio may be far from any tropical islands, but that doesn't stop them from dishing out an interesting mix of reggae, hip-hop and high energy funk for audiences across the country. Unapologetically original, Tropidelic has a deep and widespread appreciation for music that can be heard in each note. Some of the members are hip-hop heads, while others are into metal, funk or reggae. Each of these genres lends something to their collective sound. "We pride ourselves in being original in our musicality and personality as a band," says Roads, "but also in not taking ourselves so seriously that it ruins the fun."
These seasoned road dogs can be found spreading their soulful sound across the country in both intimate venues and music festivals, having shared the stage with and supported such acts as 311, Slightly Stoopid, The Dirty Heads, Pepper, The Flobots and Wookiefoot. Previously, Tropidelic has been featured at Electric Forest, California Roots Music & Art Festival, Reggae Rise Up, Warped Tour and 311 Caribbean Cruise.
Following on the success of their 2017 release, "Heavy is The Head," which debuted at #1 on the iTunes reggae charts, Tropidelic is preparing for their sixth studio project. "Here in the Heights" is slated to be released in the summer of 2019. They are also touring nationally and making appearances at several festivals, as well as hosting their third annual Freakstomp Music Festival. Stay tuned for what's to come from Cleveland's own, Tropidelic.
New Kingston
NEW KINGSTON formed in 2006 in the basement of their Brooklyn home, when brothers Tahir (keys), Courtney Jr. (drums) & Stephen (guitar) began covering music by the likes of Bob Marley, Earth Wind & Fire, Dennis Brown, Michael Jackson, The Whispers and many more. The three brothers, under the watchful eye of their father (and bassist) Courtney Panton Sr., called themselves New Kingston to appropriately reflect a combination of their Jamaican heritage and their present lives in progressive New York City. The musical styles of both places informed their sound and songwriting.

"We used to come home from school and we'd be marched right down to the music room by our dad," said Stephen.

They began performing in other basements and small backyard parties around town, all the while developing their skills and beginning to write their own original music. Talent rises to the top, and soon enough New Kingston started a heavy touring cycle supporting reggae stars such as Rebelution, The Green, SOJA, Matisyahu, Beres Hammond and Collie Buddz, while also securing spots on notable festivals such as the California Roots Festival, Reggae On The River, Summer Jam (Germany), and Uppsala Reggae Festival (Sweden), to name a few. For a while, they joined Collie Buddz to tour as his backing band, which exposed them to international audiences, while continuing their education on what it takes to make a great live show. It also helped them realize they had tons of their own original material and they quickly moved from that role to being a headliner on their own.

The band's background and upbringing are reflected in their approach to the industry, as well: they are truly a U.S. reggae band, part of the movement that has revitalized and evolved the genre domestically, with a focus on digital marketing, heavy national touring, and never sticking to a stale formula for what reggae should sound like. As second generation Jamaican-Americans, they are able to just as easily hold their own with the traditional reggae scene.

New Kingston self-released two full-length albums: In The Streets (2010) and Kingston University (2013). The band recently announced the signing to New York-based reggae label Easy Star Records and will release their third studio album Kingston City on January 27, 2015. The record features collaborations with Tribal Seeds, Kimie Miner, France's Dub Inc., Sister Carol, The Wailing Souls, and the late, great father of dancehall, Sugar Minott. If that guest list doesn't give you a snapshot of the combination of the old world and new horizons that New Kingston is all about, nothing will.

Venue Information:
World Cafe Live Philadelphia
3025 Walnut Street
Philadelphia, PA, 19104