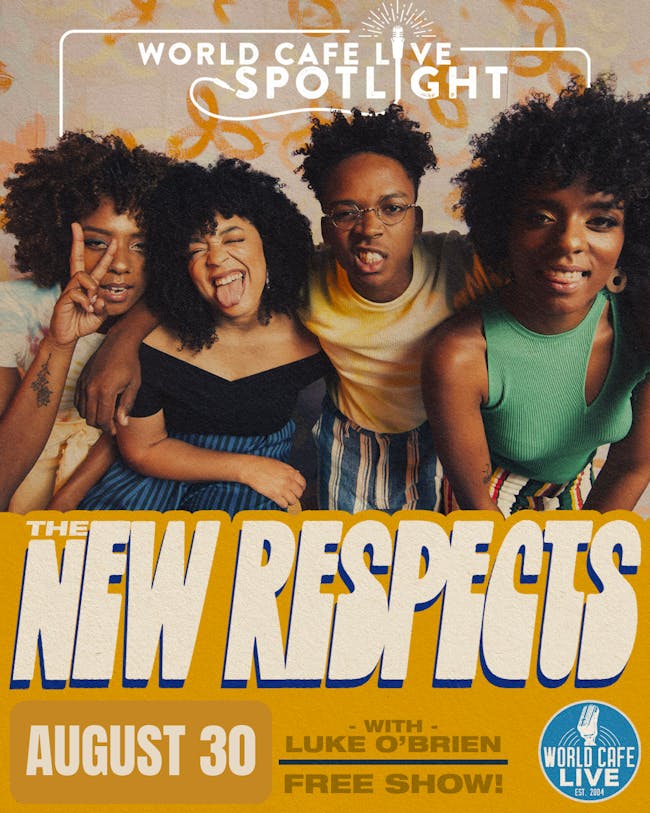 World Cafe Live Spotlight Series
The New Respects {CANCELLED}
Luke O'Brien
World Cafe Live Philadelphia
The New Respects appearing at World Cafe Live in Philadelphia, PA - FREE with RSVP
THIS EVENT HAS BEEN CANCELLED
Launched in 2018, World Cafe Live's Spotlight Artist Series highlights the best emerging talent to come through Philly. Curated by our savvy staff, these are the shows that will make your jaw drop and give you bragging rights to say "I saw them here first." We support these up-and-coming artists so fully that we're bringing these Spotlight shows to you completely FREE! Discover your next favorite band on the same stage that has hosted acts like Adele, Edward Sharpe & The Magnetic Zeroes, Billie Eilish, Alabama Shakes, and countless other breakout stars.
The New Respects
Featured in Rolling Stone as one of "10 New Artists You Need to Know" newly signed Credential Recordings artist The New Respects are quickly turning heads and gaining unprecedented traction. Falling into a genre of their own, The New Respects mesh rock & roll, soul, and pop music with overlays of acoustic tones. Comprised of twins Zandy and Lexi Fitzgerald, brother Darius and their cousin Jasmine Mullen, the Nashville-based group is a true family affair, evidencing the undeniable soul and musical legacy that flows through the roots of their family tree.
The band kicked off 2017 with the release of their debut EP Here Comes Trouble, a 5-song offering of catchy hooks and heavy grooves. Standout single "Trouble" garnered over 2M streams and received sync placements with Fox Sports, ESPN and TNT. With the EP quickly gaining traction, the band found themselves filling the rest of 2017 with an aggressive touring schedule; opening for Robert Randolph, O.A.R., and NEEDTOBREATHE, and making appearances at key festivals such as Hangout, Bumbershoot and Rock the Ranch.
The quartet's latest single, "Something To Believe In," continues the soaring, uplifting, vocal harmonies and driving soul/rock sound that defined its debut EP, Here Comes Trouble. "'Something to Believe In' is about the longing to believe in goodness when it looks like there is no reason to," remarks lead vocalist Jasmine Mullen. "We wanted to leave room in the song for the listener to the plug in their own story. All of our darkness looks different, but there is love and hope for every single one of us."
Luke O'Brien
Luke O'Brien is a Philadelphia based singer, songwriter, rapper and producer whose tunes can be described as a healthy, positive blend of Hip-hop, Pop and Soul. When he's is not writing his own music, he works as a music counselor at a behavioral and emotional support school in Philly where he and his students make hot beats, pen fire bars and shoot dope music videos. No matter what the outlet, Luke's Purpose is to uplift others and inspire them to be the unique humans they were put on this earth to be.

Venue Information:
World Cafe Live Philadelphia
3025 Walnut Street
Philadelphia, PA, 19104