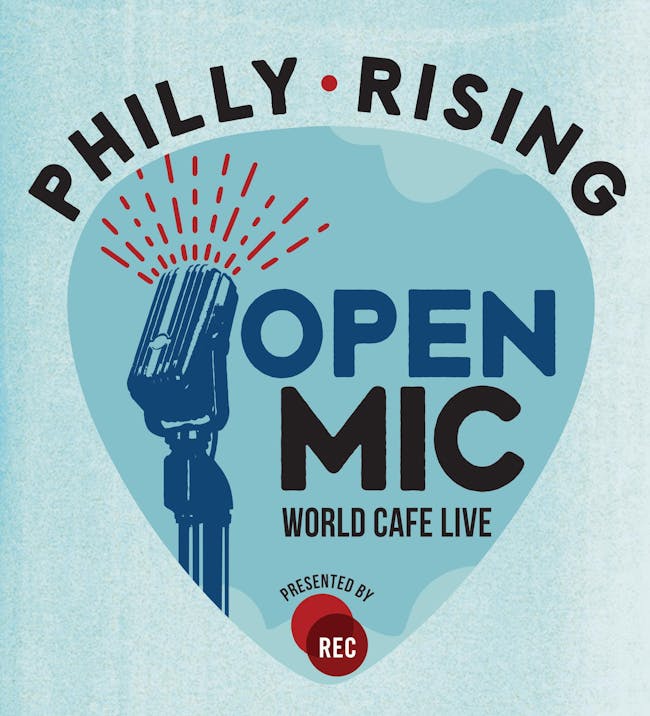 Philly Rising Open Mic
The Lounge at World Cafe Live
Free Philly Rising Open Mic
Sign up HERE
World Cafe Live's Philly Rising Open Mic is back in full swing! We've partnered with local movers & shakers REC Philly to bring you an evening of musical collaboration, inspiration, and networking hosted by Gabrielle Chapman. Each month, we'll welcome pre-selected performers from every genre to step up to the mic, along with a Featured Artist hand-picked by REC Philly. Whether you're a performer, a supporter, an industry professional, or just a music lover – Philly Rising Open Mic is the place to be every first Tuesday. Our restaurant opens at 5pm (happy hour until 7pm!), and performances start at 8pm. Admission is FREE and all ages are welcome.
Submissions are accepted up to one week before each month's Open Mic (submission for December will close 11/26). If selected, you'll be notified with an approximate time slot. Please check in with our host at least 30 minutes before your time slot. Each performer is allowed 2-3 songs, or a maximum of 10 minutes.
We encourage you to sign up in advance, but there will be spots available for those day-of deciders! Walk-up performers will be chosen on a lottery basis. Please check in with our host when you arrive to enter.
World Cafe provides a drum kit, bass amp, two guitar amps, and an upright piano on stage and ready to use. Performers wishing to use the drum kit must provide their own sticks, and guitarists and bassists must provide their own instruments and instrument cables. Performers with pre-recorded tracks need to bring their own playback device (phone, laptop). World Cafe provides an auxiliary cable (headphone jack) on stage for performers to plug into. Folks with newer iPhones are responsible for providing their own headphone adapter. World Cafe will not provide one.
Featured Artist: Sarah "Essie" Riddle
Essie (Sarah Riddle) is a WV native who moved to NJ to pursue her graduate studies in opera at Westminster Choir College. While there she began singing and song-writing with a local band soon forming Essie & the Big Chill. Soon after Essie's passion turned to writing her own songs. She is currently working on several independent projects and collaborating with several artists in the tri-state area.

She has been fortunate to sing in the Invitational house band at John & Peter's fronted by Mickey Melchiondo (Dean Ween) and featuring incredible musicians such as Michael Hampton (Kidd Funkadelic). Other notable performance venues include performing at Brooklyn Bowl, House of Independent's and Ardmore Hall with renowned acts like Junior Marvin (The Wailers), Justin Guarini, Remember Jones, and Jah People.

Classically Essie has been fortunate to share the stage at Carnegie Hall with the Berlin Philharmonic for Beethoven's 9th Symphony under the baton of Sir Simon Rattle. She also has performed under Yannick Nézet-Séguin with the Philadelphia Orchestra at the Kimmel Center for multiple works, as well as several performances with the New Jersey State Orchestra.

Over the years she has been recognized for several awards including the Hobson Award for Vocal Excellence and first place in both the Eloise-Campbell Long Competition, and WV NATS competition

Venue Information:
The Lounge at World Cafe Live
3025 Walnut Street
Philadelphia, PA, 19104