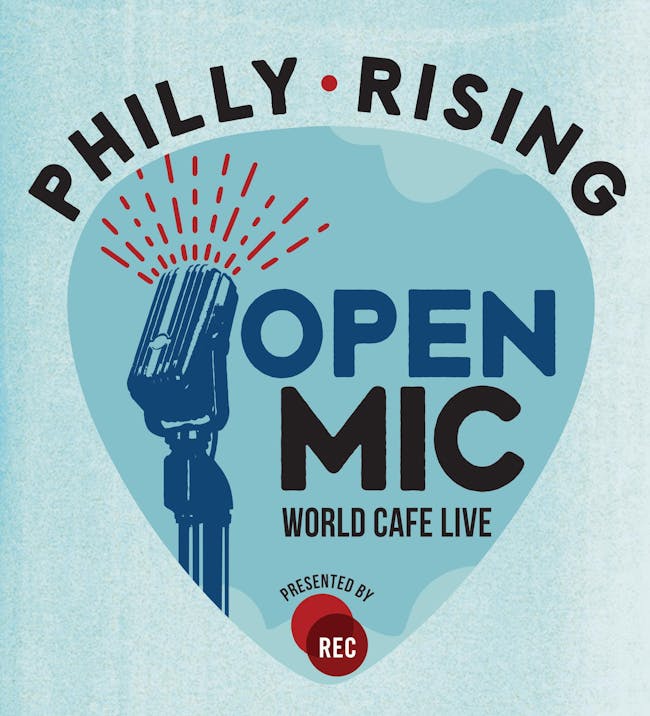 Philly Rising Open Mic
The Lounge at World Cafe Live
Philly Rising Open Mic - The Lounge at World Cafe Live - Free Admission
World Cafe Live's Philly Rising Open Mic is back in full swing! We've partnered with local movers & shakers REC Philly to bring you an evening of musical collaboration, inspiration, and networking hosted by Gabrielle Chapman. Each month, we'll welcome pre-selected performers from every genre to step up to the mic, along with a Featured Artist hand-picked by REC Philly. Whether you're a performer, a supporter, an industry professional, or just a music lover – Philly Rising Open Mic is the place to be every first Tuesday. Our restaurant opens at 5pm (happy hour until 7pm!), and performances start at 8pm. Admission is FREE and all ages are welcome.
Sign up HERE
Submissions are accepted up to one week before each month's Open Mic (submission for November will close 10/29). If selected, you'll be notified with an approximate time slot. Please check in with our host at least 30 minutes before your time slot. Each performer is allowed 2-3 songs, or a maximum of 10 minutes.
We encourage you to sign up in advance, but there will be spots available for those day-of deciders! Walk-up performers will be chosen on a lottery basis. Please check in with our host when you arrive to enter.
Featured Artist: Gracie Martin
Born in Rochester, NY but having spent nearly the past decade in Philadelphia, Gracie's cinematically mythical folk-pop project Gracie Martin & The So Beautifuls is on a literal and figurative journey. The literal journey includes an array of East Coast and Midwest tour dates for summer 2019, numerous new releases and a bittersweet goodbye for now to Gracie's heart home of Philadelphia. Now re-based Rochester, where Gracie was unschooled from first grade until moving to Philly in 2010.

Unschooling is an education practice that advocates learner-chosen activities as a primary means for learning. Gracie's colorful background in experimental theatre, classical voice, dance and visual art that inform her practice as a songwriter and producer were made possible by this unconventional learning style. Gracie earned her BFA in Acting from The University of the Arts in 2014 and went on to work steadily in the Philly theatre community and become a company member of Plant Me Here before self-releasing her debut EP, Unconscious, in June 2017.

Gracie's transition from theatre to music was somewhat painful and less linear than she had imagined. In Early 2019 Gracie composed original music which she performed in The Wilma Theater's production of Romeo and Juliet which opened to rave reviews from The Philadelphia Inquirer, WHYY and Broadway World. The soundtrack for Romeo and Juliet is set for release September 2019. Working on Romeo and Juliet lit up Gracie's question about toxic treasures. "Why do we act like this story represents the ideal romance when it's about young people killing themselves and others?" These questions are burning underneath Gracie's upcoming single "Like Falling Asleep" a sweeping, cinematic, chamber pop suite that bucks traditional ideas of romance. The song clips along with a poppy engine, dripping with strings and sometimes overwhelmed by distortion that feels like a slight buzz while Gracie sings "love is such a good turn-down drug…"

While Gracie Martin will always practice an open mindset as a freelance artist, Gracie Martin & The So Beautifuls is focused on delivering a cornucopia of lush, fantasy folk-pop that challenges and cherishes the the ideas of the past while learning how to change the future.

Venue Information:
The Lounge at World Cafe Live
3025 Walnut Street
Philadelphia, PA, 19104