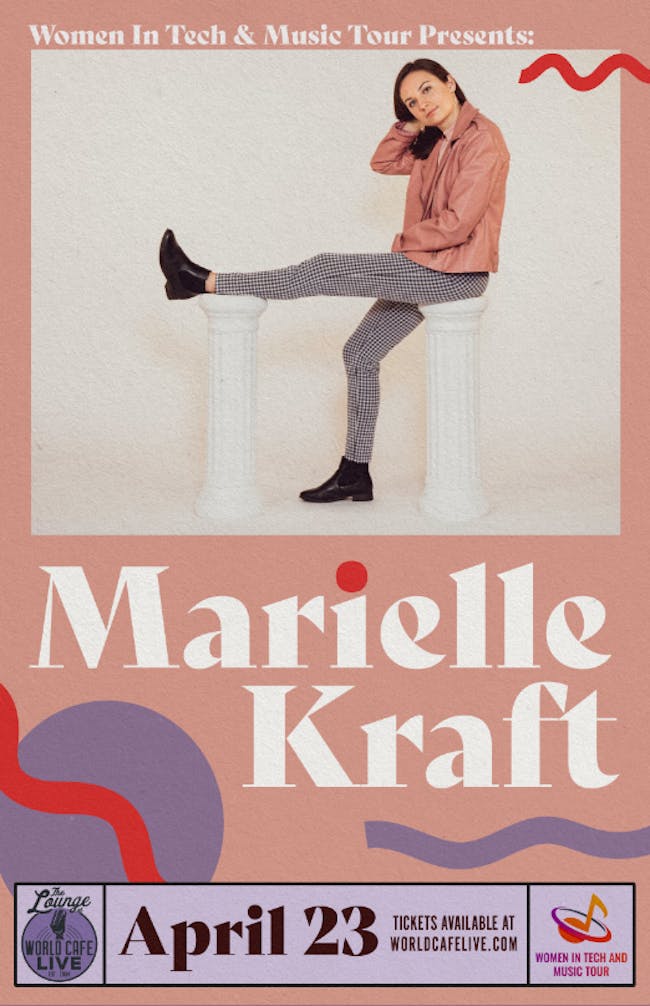 Women In Tech & Music Tour Present
Marielle Kraft {RESCHEDULED DFROM 4/23}
Lullanas
The Lounge at World Cafe Live
Marielle Kraft with Joy Ike appearing at The Lounge at World Cafe Live in Philadelphia, PA – Tickets Available
Marielle Kraft
When you hear Marielle Kraft's music or experience her candid live shows, you feel as though you already know her. The indie pop singer/songwriter, based outside of Philadelphia in Delaware, displays craftsmanship beyond her years, following suit to artists like Alec Benjamin, Maisie Peters, and Taylor Swift.
Self-taught, the Rhode Island native began playing guitar at 16 and soon writing songs that strike chords with listeners everywhere. Her gift for storytelling is evident through her use of salient detail, raw emotion, and poignant word choice to describe moments "exactly as they feel."
Over the past few years, Marielle Kraft has self-released 2 original EPs, including four singles and three official music videos.
Her live EP, The Gibraltar Sessions (2016), features a stripped down delivery of 5 original songs that seamlessly match clever lyrics of love, longing, and identity with ear-worm melodies which many claim "ring in your head for days afterward."
Kraft's 2017 debut indie pop single, "How Far You Feel," has collected nearly half a million streams across platforms. The breakout track seeks to understand the dichotomy of physical vs. emotional distance in relationships, brilliantly expressing "what many feel but cannot find the right words to say."
Marielle Kraft regularly plays at venues across the Mid-Atlantic, sharing stages with names as big as Jake Miller, Ava Max, and Betty Who. She presents her live shows as a seamless narrative: evocative yet encouraging, deeply reflective yet refreshing. The raw authenticity with which Marielle invites listeners into her story cultivates a relationship with them beyond the song, as she is known to "bring together a room full of strangers."
In spring 2018, she was crowned Grand Champion of the Mid-Atlantic Singer-Songwriter Competition, and the following June she delivered a Tedx Talk at Firefly 2018, discussing the importance of honesty rooted in her songwriting process.
Marielle's 2018 single, Test Drive, was the first on her debut EP. Kraft says of the pop single, "The idea that this song of painfully breaking two people apart can become an anthem of moving forward with heads held high, for me, is the sweetest kind of break up retribution."
In February 2019, Marielle Kraft released her fan-favorite soft pop single "Toothbrush," coupled with a brilliantly creative lyric video comprised of 50 fans singing along to her lyrics using custom Marielle Kraft toothbrushes.
Kraft's third EP single, "Better Without You," arrived on May 17th across platforms. This "standout track" reaches new heights in pop production and lyrical construction. Premiering on GroundSounds, the bicoastal music blog raves of the sparkling single, "The song shows Kraft's big-time pop sensibilities. It's addicting, charming, and shows why she's a name to watch this year."
Each of these three singles culminated as Marielle Kraft's debut studio EP, "The Deep End." Officially released on July 12th, Kraft's first effort is notably strong both lyrically and sonically, described by The Music Mermaid as "song after song of mini pop addictions."
Kraft's EP release was directly followed by her first headlining east coast tour. Her "winning personality," "genuine connection"," and "gift for story telling" on stage have fueled the ever-growing crowds at each of her shows, with no signs of slowing down.
Since leaving her full-time teaching career to pursue a life committed to creating music in summer 2018, Marielle Kraft has promise to follow suit to artists like Julia Michaels and Maggie Rogers as the young songwriter makes a growing impact in the indie pop scene.
+ + +
"Already with her debut EP, The Deep End, indie-pop artist Marielle Kraft paves a path to sweet-and-sunny pop success." - The Music Mermaid
"If you like indie-pop with singer/songwriter flair then it's a must-hear. The songs from the EP sounded even better performed with a whole band in the live setting…they sounded fuller and had an extra dose of vibrancy." - Love Is Pop
"'Better Without You' stands out on the EP and is the perfect breakup / female empowerment song." - Rock On Philly
"Marielle Kraft finds vulnerability as the avenue to joy, light, and truth, as is rooted in each of her indie-pop songs. Marielle knows who she is, and that comes across so strongly in her music." - The Narrative Now Podcast
"With each passing second, we allow ourselves to fall more deeply into this incredible soundscape." - Imperfect Fifth
"Marielle showed a clever intensity in her material that, when coupled with her wonderful voice, pulled the listener into her story." - Joe Trainor, Gable Music Ventures
"Marielle's songs tap into young women and millennials' romantic angst and euphoria in a way that feels flavored by Alanis Morissette and Taylor Swift." - Cheryl Squandrito, Philadelphia Inquirer
Joy Ike
Polished and precise, yet buoyed with an airy grace, Joy Ike paints with a broad palette that defies easy categorization. Born to Nigerian immigrants, the singer/songwriter's music, voice, and writing have drawn comparisons to female musicians such as Nina Simone, Laura Nyro, and Regina Spektor. But her percussive piano-playing and soaring vocals give homage to her African upbringing.

Leaving her career as a publicist in 2008, Joy has spent the last 12 years playing thousands of shows across the country. A write-up on NPR's All Things Considered says "The depth of subjects she tackles in her poetic lyrics are perfectly complemented by a unique blend of neo-soul, with just the right dash of pop...a truly compelling act to watch in person, with the ability to create an intimate setting in locations big and small."

Venue Information:
The Lounge at World Cafe Live
3025 Walnut Street
Philadelphia, PA, 19104