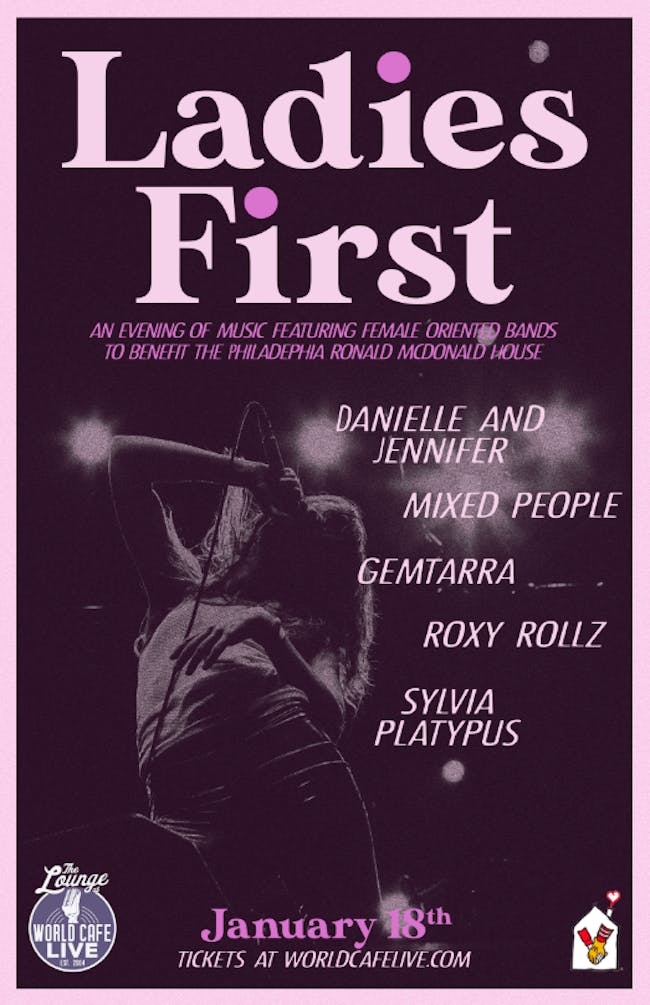 Ladies First
The Lounge at World Cafe Live
Ladies First appearing at The Lounge at World Cafe Live in Philadelphia, PA – Tickets Available
Ladies First: An Evening of Music Featuring Female-Oriented Bands to Benefit The Ronald McDonald House
Gemtarra
The word Gemtarra is derived from two Italian words: gemelli which means twins and chitarra which means guitar.
From Philadelphia Gemtarra is a female oriented alternative rock/pop band with a groove. The band features the songwriting/guitar playing of twin sister's Gina and Tina. Bryan Feddish on bass, Sunny Dee on drums, Tawana Simons percussion.
Gina and Tina formed the band originally named Prima Donna. In 2018 the time was right for a change and Gemtarra was born.
The band's first full length CD under the Prima Donna name, "Not Having Fun" has received rave reviews and has been played by over 200 college radio stations across the country charting in the top 10 on many including, WIIT, (Chicago, IL), and KAOS, (Olympia, WA). It also received internet radio airplay and commercial radio airplay on WSTW in Delaware. "This authoritative trio made up of young women has their act together. You will hear a CD chock full of great guitar licks with hooks galore filling in every track" Keith "Muzikman" Hannaleck, musicdish.com. "Restored" was the second release from the band in 2011 which also received rave reviews: "Reminiscent of some of the greatest rocker chicks out there, Prima Donna stands strong on their own with sensational sound and a genuine mix of playful/heartfelt lyrics."- MusicPerk Team, MusicPerk.com. "A moving an elegiac artistic statement from start to finish."- Michael Rand, Rocknrollview.com. "Prima Donna will restore your faith in music again. Their latest CD "Restored" delivers a highly passionate 10 track catalog via top flight musicianship, amazing songwriting and music that covers all the bases."-Michael Keith, IndependentMusicPromotions.com.
In early 2019 Gemtarra will release their debut EP, Fired Up. Recorded at the legendary studio 4 in Conshohocken, PA the band worked with Grammy award winning producer/engineer Phil Nicolo on the four tracks.
Roxy Rollz
Hailing from greater Philadelphia, Roxy Rollz blends a powerful mix of rock & avant-garde synth pop with a punk attitude.
Kym Staloff, Lead Vocals, Keys & Guitar
Mikey Carbone, Drums
Nick Demou, Guitar
Billy Glo, Bass
Mixed People
"Mixed People" is a funky, soul fusion band with hints of rock and world music...or as we like to call it - new age funk. Versatile musicianship, raw lyrics, and full vocal harmonies create a genuine, mixed musical experience. The name Mixed People derived from colors that bloomed out the whole funk and nothing but the funk. It embraces the love of self and others regardless of our differences and celebrates the beauty in us all. Mixed People is a Philadelphia-based band, founded by guitarist, Paulette Branson, in August 2012. Other band members include: Bird Williams (keytar and vocals), Pierre Nix (percussion and vocals),Terrence Jones (bass), and Sunny Dee (drums). Any given night, you'll also find a collaborative of other distinguished musicians joining them on stage. Since August 2012, the band has stamped its sound in Philadelphia performing at various music venues, from World Cafe Live and The Ardmore Music Hall to Hard Rock Cafe and The Trocadero.
In April 2014, Mixed People released their EP Album, Shark Attack. Shark Attack is a fun, refreshing, guitar-driven masterpiece that has left fans craving for more. The music is progressive, and the energy and emotion behind this band will get you dancing on your feet and singing along.
Fans have compared Mixed People to P Funk meets N.E.R.D. or Jimi Hendrix meets Prince.
Sylvia Platypus
Janet Bressler, vocals
Take vocal mannerisms reminiscent of Edith Piaf and John Lee Hooker and combine them with a stage presence that is equal parts James Brown and Judy Garland, and you have some idea of Janet's lead-singer style. In search of the perfect vehicle to transport her vision, Janet assembled Sylvia Platypus from some likely, not-so-likely, and purely serendipitous alliances.
Ruchama Bilenky, bass
Bill Barone, guitar
Phillip McMillan, violin
Charlie Rutan, highland and uilleann pipes, tin whistles, English horn, zampogna, ciaramella
Quirky Tom Theurer, drums
Danielle and Jennifer
Danielle and Jennifer are sisters who grew up in Philadelphia, Pennsylvania and acting professionally at the young ages of 3 and 6 years old. Danielle was "Young Cosette" in the Broadway show "Les Miserables" for 2 years and 9 months and Jennifer has been on "Law & Order" and "All My Children". They have a long list of experience of years on Broadway (Les Miserables,Tale of Two Cities, Broadway Kids, etc.), Off Broadway (House Of Bernarda Alba, The Alchemist, A for Adultery, etc.), TV (Law & Order, All My Children, Guiding Light, etc.), Commercials (Numerous National Commercials such as Wendy's(Wendy's Family Series), Kodak, Campbells, AT&T, Lowe's, Spaghettios, Franceso Rinaldi, etc.), Voiceovers (Blue's Clues, Lowe's, Spaghettios, Volvo, Royal Caribbean, etc.), Jingles (Pepsi,Hess Truck(also in spanish), Charmin, Curad, Nickelodeon, etc.), Film (LBS, Corn, Olivia, etc.)' Readings (Night of The Hunter, Tale of Two Cities, etc.), Print(Sears, Boscovs, Child Magazine, etc.). The official music video to their single "Radical Love" and "The First Time You See Me" can be viewed on youtube and now on their VEVO at youtube.com/DanielleJenniferVEVO. Danielle and Jennifer have been featured on The NBC Philadelphia 10! show where they performed "Radical Love" Live. "Radical love" can also be heard in the feature film "Miami or Bust: A Hoboken bet". Danielle and Jennifer have been touring the tri-state area and have opened up for national touring acts including, "Lifehouse", "The Veronicas", "Tyler Bryant and The shakedown","Hydra Melody","Deleasa","Saving Abel", and "Hollywood Ending". They have played at legendary venues such as The Bitter End in NYC, The Legendary Dobbs in Philly and The Crocodile Rock in Allentown, World Cafe Live Philly, World Cafe Live The Queen, and The Trocadero in Philly. Danielle and Jennifer also have played many music festivals including The Liberty Music fest in Philly,Dewey Beach Music Conference in DE, The Ladybug Festival in DE, and the South Street Spring Fest in Philly, Frozen Harbor in Baltimore Maryland, Launch Music Conference in Lancaster, PA, Millennium music conference in Harrisburg, PA, Cape May Singer Songwriter fest in Cape May,NJ and many more. Danielle and Jennifer's single, "The First Time You See Me" was co written by Sandy Linzer who has written for Whitney Houston, Frankie Valley, etc. "The First Time You See Me" is now available on Itunes,Amazon mp3, Spotify,VEVO, and Shazam.The duo's music is also regularly played on internet radios such as Gashouse Radio and BGL radio. Danielle and Jennifer's single, Hello Sunshine was written in honor of the Ronald Mcdonald Camp for children with childhood cancer. Hello Sunshine won a Homey Award for Best Pop Song at the 93.7 WSTW'S 2016 Homey awards and continues to get airplay on 93.7 WSTW Hometown Heroes. Hello Sunshine also won an Elephant Talk Indie award for Track of the Year. The sister duo is also very active when it comes to health organizations and charity events. Both sisters were diagnosed with the auto immune disease, "Hashimoto's Thyroiditis" and are big advocates for the disease. They have a foundation, "Damn The Butterfly" to raise awareness for the disease, share health and fitness tips, recipes, and create a community where sufferers can feel like they aren't alone. www.facebook.com/DamnTheButterfly Instagram – Damn The Butterfly. Danielle and Jennifer's music can be found on iTunes, Spotify, Amazon MP3 and Apple Music. Their newest single, "April Fools" will be released April 30th 2017.

Venue Information:
The Lounge at World Cafe Live
3025 Walnut Street
Philadelphia, PA, 19104