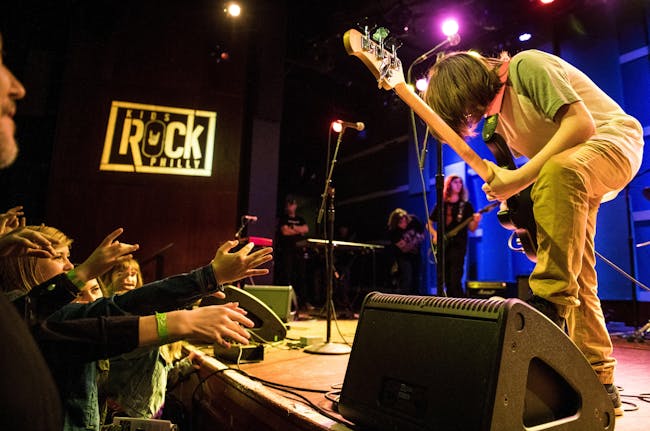 Kids Rock Philly: A Benefit for LiveConnections
World Cafe Live Philadelphia
$7.50 - $15.00
Sales Ended
Kids Rock Philly: A Benefit for LiveConnections appearing at World Cafe Live in Philadelphia, PA - Tickets Available
Kids Rock Philly: A Benefit for LiveConnections
Kids Rock Philly is an all-day rock festival that will leave you inspired! It's an unconventional collaboration between School of Rock and World Cafe Live, benefiting the music education nonprofit LiveConnections.
Between the six School of Rock venues in the Philadelphia region, they host more than 500 kids every week, teaching them not only how to rock, but how to build confidence, how to work together and have fun in the process. And now, through a collaboration with non-profit LiveConnections, the Kids Rock Philly event is also teaching students the value and importance of giving back.
During this all-day festival, hundreds of School of Rock students perform at World Cafe Live, one of the best venues in Philly. Proceeds support free music educational opportunities for 4500 Philly youth through LiveConnections' innovative programs. It's full-circle philanthropy: kids rocking out, giving back and making music programs possible for other kids.
Come and spend a few hours on Sunday, February 23rd at World Cafe Live, where a great beer, food and beverage selection will be available throughout the day. On stage in the Music Hall, you'll see dozens of very talented young bands playing an eclectic mix of the greatest rock music of all time. The Lounge upstairs will feature house bands and a unique showcase of original material by talented School Of Rock students.
LiveConnections:
LiveConnections is a nonprofit organization specializing in music education, arts accessibility and collaborative concerts. We believe live music is an essential part of the human experience: it fosters joy and is one of the most powerful ways to build bridges between people. Since our founding in 2008, we have reached more than 41,000 participants through our free educational Bridge Sessions and in-school residencies, and have presented 50 concerts through our critically acclaimed concert series. Learn more at http://liveconnections.org.
Make A Donation:
In addition to purchasing a ticket, you can help sustain LiveConnections' music education, accessibility and collaborative concert programming all season long! CLICK HERE TO DONATE

Venue Information:
World Cafe Live Philadelphia
3025 Walnut Street
Philadelphia, PA, 19104