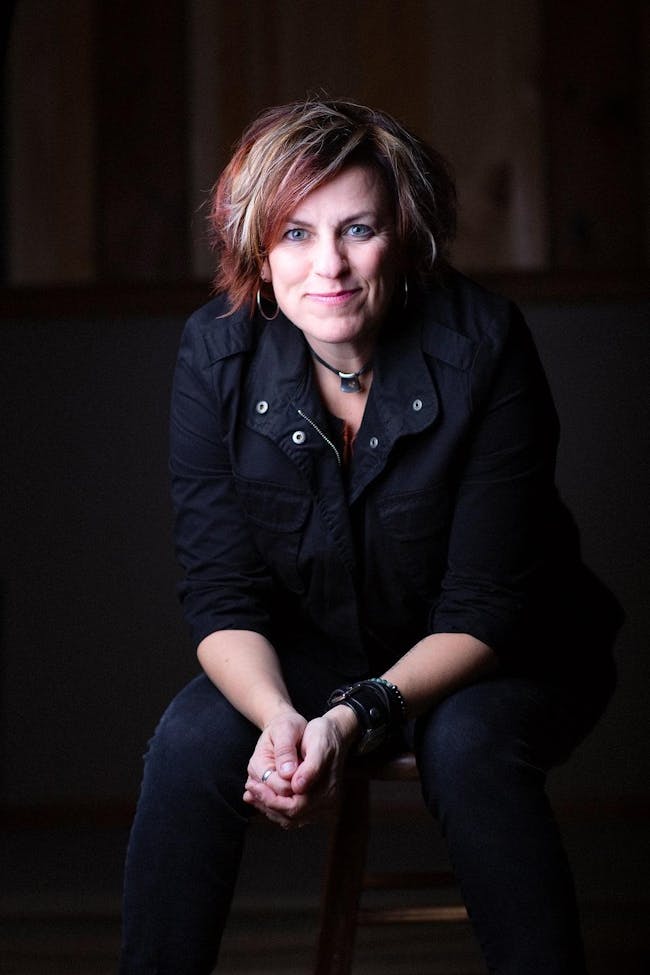 Christine Havrilla & Gypsy Fuzz Birthday Show {RESCHEDULED FROM 3/14}
Sirsy
The Lounge at World Cafe Live
Christine Havrilla & Gypsy Fuzz w/ Sirsy appearing at The Lounge at World Cafe Live in Philadelphia, PA – Tickets Available
THIS EVENT HAS BEEN RESCHEDULED TO 3/6/2021
ALL TICKETS PURCHASED FOR THE ORIGINAL DATE(S) WILL BE VALID FOR THE NEW DATE.
Christine Havrilla & Gypsy Fuzz
Award-winning Philadelphia native Christine Havrilla brings her "well-built, catchy, smart tunes" (Upstage Magazine) to audiences everywhere, touring nationally solo and with the band in support of her 2019 album, "Sunless Escapade". She returns to World Café Live on 3/14/20 for a special Birthday Show including the full band + special guest, Sirsy, to celebrate a life long, so far, of playing and writing music since self-taught at the age of 3! Christine utilizes the soft gritty texture of her vocals to express warmth and honesty listeners quickly embrace as well as her aggressive, raw, trash-style guitar playing and looping. With twelve albums and 3 EPs under her belt, What's Up Magazine exclaims, "Christine breaks out the gasoline and sets fire to the typical Roots/Folk genre with blazing guitars." Ed Kiggins of inD Round raves, "Christine is one of the hardest working women in music. With her child prodigy-come-of-age guitar virtuosity, a supremely passionate and emotive voice, and an arsenal of wondersongs that have endeared her to a loving and devoted audience, she is in a class all of her own. She calls her unique style Neofunkadelicfolkpoptwangrock, but we simply call her brilliant!" Main Line Today Magazine lists Christine as one the 25 "Power Women ready to lead." "Christine Havrilla is a creative, talented powerhouse wrapped up in one complete package!" exclaims Nor'easter Magazine. Mike "Jacobs" McKenna of Steel Notes Magazine says, "This ambitious Philly native manifests her talent in certain ways that allows her to create eclectic music which will grab your heart and leave a lasting memory. Her Roots/Folk/Americana background coupled with that unique individuality that she possesses allows her to be a presence that steps into many genres and gives her the tools to crossover to different music formats." Mark Rogers from 93.7 WSTW raves, "…with Gypsy Fuzz, Christine takes especially that rock element and turns it to 11." Named "One of the Top Ten Indie Artists" by The Advocate Magazine, The Washington Post writes, "(Havrilla's) songs are intelligent and moving, the arrangements are incisive and colorful, and, best of all, Havrilla consistently comes across as a confident and seasoned performer." "Considered one of the hardest working women in music, Christine has an arsenal of wondersongs, a supremely passionate and emotive voice, serious guitar chops and a loving and devoted audience!" notes Dave Fry of 88.1 WDIY and Godfrey Daniels. Christine has shared the stage with artists as Brandi Carlile, Chely Wright, Jeffrey Gaines, America, Jill Sobule, Janis Ian, Antigone Rising, Melissa Ferrick, & Davy Knowels to name a few. Gypsy Fuzz's premier album titled "Searching. Finding. Living." and co-produced by Larry Crane (Elliott Smith, Sleater-Kinney, Cat Power), was listed on Advocate Magazine's not to be missed "Best Overlooked Albums". Christine is listed with Takamine Guitar's Worldwide Artists, Clayton Picks, Telefunken Mics, was a featured Artist for American Musical Supply's Singer/Songwriter Month (Feb 2015 & 2017), nominated for About.com's Reader's Choice Awards, awarded the 2010 Garden State Film Festival's "Best Contemporary Country Song" for "Blinders", nominated for 3 "Homey Awards" for 93.7 WSTW, and is called "...raw, simple, wonderful!" by Curve Magazine. Inessa at 101.9 KINK.FM calls Gypsy Fuzz "Yet another fun late-year discovery!" Michaela Majoun, former DJ from 88.5 WXPN, applauds her "terrific, big sound", while Philadelphia Magazine states, "She rocks!" Len Lear of Chestnut Hill Local (2019) proclaims, "You probably should not wear socks because if you do, singer/songwriter Christine Havrilla and her band, Gypsy Fuzz, will knock them right off." Christine is noted in the new book by Sean Kay called "Rockin' the Free World" (Dec 2016 Roman & Littlefield). After three years of releasing "Live Session" Albums (2015-2018), Christine celebrated the 20th Anniversary of the album "Some Other Thing" (1998/2018), with a re-print as well as bringing songs back to the current set list while touring! The new 2019 studio album called "Sunless Escapade" was recorded at Studio 1311 outside of Philadelphia, PA. This show includes Rich Bellando on drums, Keith Giosa on bass + keys, Dan Kauffman on electric guitar + bass, and Gretchen Scultz on backing vocals.
SIRSY
SIRSY is a rock, pop, and soul duo from Upstate NY. They write songs that are chock full of sing along melodies; honest songs with lots of heart and just the right amount of sass. It's "edgy-feel-good"music. (–The Houston Music Blog).

The Boston Globe call SIRSY "the little band with the big sound." And the SXSW Music Blog say "SIRSY is NOT simply a two piece, they are a head scratching, WOW!" SIRSY is fronted by charismatic vocalist and drummer Melanie Krahmer who has "one of the most powerful and flexible voices you'll ever hear" (–Times Union). At live shows, Melanie also plays bass on a keyboard with her drumstick & throws in a few mean flute solos too. Guitarist, Rich Libutti plays a road worn and well loved Rickenbacker guitar through a pedal board full of vintage effects. Live, Rich also plays bass on a keyboard with his feet. So, these multi-instrumentalists manage to sound like a full band, despite there being just two of them. And somehow, they do it all with big smiles on their faces. It's clear they love what they do. And that love is contagious when you see them live. Their energetic show often includes stories from the road, laughter, dance parties, and even Rich's nerdy Star Wars jokes.

Every show is like a celebration for this couple who endured a tough year in 2018 as Melanie fought her second battle with cancer – and won. That celebratory energy and fighting spirit has been captured in their latest offering "Like a Drum" (produced by Grammy winner Paul Q. Kolderie). The title track "Like a Drum" was written about the day that Melanie's doctors finally gave her the go-ahead to make music again after a 3 1/2 month hiatus for her treatment. SIRSY's fans took it upon themselves to support the band during that hiatus with a crowd funding effort that paid their bills and paid for the recording of the record. It's a true labor of love.

SIRSY has toured for a living for 15 years– playing 250 shows each year all over the US and Canada. (They've played in every state, except Alaska.) They average about 60,000 miles per year on the road in their little white van their fans named "Axel". They've shared stages with: Grace Potter, Maroon 5, Train, Cheap Trick, the Spindoctors, Collective Soul, Brandi Carlile, Shovels and Rope, & many more. Their song 'Cannonball' was featured in season 6 of the hit tv show "Shameless" (on Showtime). Sirsy's songs have also been featured on PBS, HBO, and MTVu. Mel's been featured in Modern Drummer & is endorsed by Paiste Cymbals and Vater Percussion.

Venue Information:
The Lounge at World Cafe Live
3025 Walnut Street
Philadelphia, PA, 19104