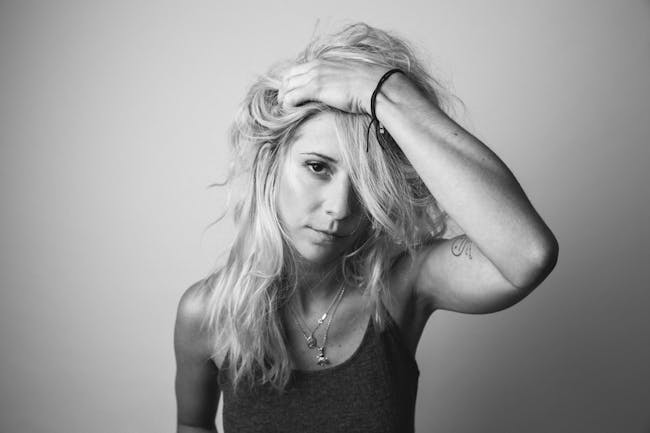 Bully {CANCELLED}
The Spirit of the Beehive, Control Top
World Cafe Live Philadelphia
Bully appearing at World Cafe Live in Philadelphia, PA – Tickets Available
THIS EVENT HAS BEEN CANCELLED.
Bully
In rock – as in life – change is unavoidable, often painful, but ultimately necessary, and Alicia Bognanno and her band Bully have dealt with a lot of it since their debut record Feels Like hit in 2015. Now with a new label and another couple years worth of life experience, the 12 new songs on Losing feel like perfect anthems for a generation still learning to harness the power of resistance. With a vocal style that is as pretty as it is powerful, and emotionally resonant lyrics, Alicia channels the loss of innocence and reveals a raw honesty in songs that are distinctly hers.
I love Bully the way I love Sebadoh, Dinosaur Jr and the Breeders. Their sound takes me back to the stripped down and thoughtfully engineered songs that haunt me long after they're gone and never get old. Another good reason to be with Sub Pop, who have always been associated with music that is built to last.
I feel like all my best work has been born of heartbreak and upheaval; maybe most musicians feel that way. "The title of the record – Losing – kind of says it all," Alicia says. "After being on the road so long and coming back to Nashville we all had a lot of changes going on in our personal lives that we were trying to deal with / adjust to and that was really the motivation for this one."
"Feel the Same" is about being stuck in the claustrophobia of a manic state of mind. It's Alicia's favorite song to scream. "Seeing It," she says, is about the unique anxiety and vigilance about personal safety that comes with being a woman: "Such a blurring place to be / stuck in your own body." Lately Alicia has been lending her voice as an advocate for gun control, women's rights and speaking out in support of animal rights. In some ways my generation were in a bubble in the 90s; I never gave any thought to what Bill Clinton was up to, for instance – but in 2017, Losing sounds like a personal and necessary call to arms to me; we need rock n roll now more than ever.
Spirit of The Beehive
Spirit of the Beehive have scooped and warped the best traits of various time periods of underground alternative and indie rock over the course of their 5-year career. From the post-punk and heavy shoegaze elements of 2014's self-titled LP, to the massively overdriven guitar tones and disorientation of 2016's You Are Arrived (But You've Been Cheated), Spirit was largely geared toward the moldy Philadelphia underground from which they began. Where those two albums had dipped fingers and toes into an ocean of glitched and obscure samples and uncommon keyboard tones, 2017's Pleasure Suck lets its waves pull it completely asunder on a collection of somehow even more expertly crafted songs.
Through constant touring, Spirit has refined their live sound with an entirely new representation of their past material. The moments in their songs that get memorized through repeat listens are there still, but the melancholy melodies made of uncommon chords and unexpected pauses and shifts are now represented and shown in an entirely new sonic light for anyone fortunate to catch a performance. 2018's Hypnic Jerks is the latest representation of their masterful textural experimentation. Electronic drums are as evenly paired with cymbals, snare, and shakers as keyboards are with guitar. The more room Spirit has to spread and expand its tonal palette, the more of their gifts we as listeners will be here to receive, and the deeper into their dreamy world we'll go.
Bio written by Pierce Jordan
Control Top
Covert contracts rule our world: manipulative relationships, encoded social norms, opaque technologies. "With a covert contract, the trick is that the agreement is only known by the person who makes it," says Ali Carter, singer and bassist of Philly post-punk trio Control Top. "The other person is oblivious. Consent is impossible. A void of communication opens up a world of misunderstanding."

In an era of such impossibilities, Control Top—Carter with guitarist Al Creedon and drummer Alex Lichtenauer—rip open space for catharsis. Their explosive songs are a synthesis of varied interests and backgrounds: Carter's innate sense of new wave melodies, Creedon's sirening noise guitars, Lichtenauer's feverish hardcore drumming.

On their debut full-length Covert Contracts, the songwriting is fully a collaboration of Carter and Creedon. Carter's voice thumps and screams and deadpans while her driving, hooky basslines play out like guitar leads. Creedon, also the band's engineer and producer, balances composition and chaos, equally inspired by pop and no-wave.

With her lyrics, Carter responds to feeling trapped and overwhelmed in a capitalist patriarchy, offering indictments of wrongdoing and abuse of power, odes to empathy and ego death, as well as declarations of self-determination.

These songs hit even harder when you consider how close this band came to not existing at all. Despite being involved in underground music communities for years, Carter didn't start Control Top (her first band) until age 25. Disillusioned by punk, Creedon had all but abandoned guitar. But Control Top felt exciting, a chance to experiment: to rethink the relationship between guitar and bass and use samplers to add new dimensions. Meanwhile, Lichtenauer had quit playing drums after an abusive situation in a previous band that had ruined playing music for them, and joining Control Top was an opportunity for rebirth.

At once anthemic and chilling, Covert Contracts puts words to today's unspoken anxieties. Brimming with post-punk poetry for 2019, it's the sound of agency being reclaimed.

Venue Information:
World Cafe Live Philadelphia
3025 Walnut Street
Philadelphia, PA, 19104