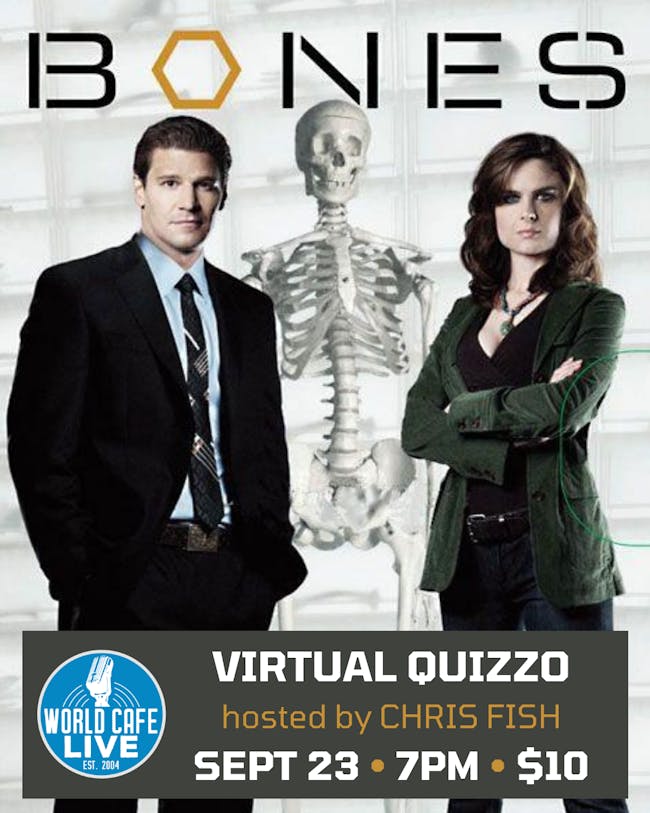 Bones Virtual Quizzo {CANCELLED}
Bones Virtual Quizzo - Hosted By Chris Fish | Tickets Available
Calling all potential Kings of the Lab! Time to gather up your elite team for Bones virtual quizzo at World Cafe Live. I guess you could call this one, "The Quizzo in the Zoom."
Do you wish you could pop into the Founding Fathers bar for a round with the Jeffersonian gang? You're not alone-- come join your fellow Squints for a fun night.
Bones-related costumes, Zoom backgrounds, and creative team names are encouraged. The event will feature three rounds of questions tackling anything and everything related to the show itself. Ticket sales will be limited, just like Vincent Nigel-Murray's time as a squint (too soon?!?!).
A few notes on signing up for this event:
- All team members must have a ticket
- Every team must have a minimum of 2 people and a maximum of 6 people
- We highly suggest that your entire team purchase tickets together.
- Every team must agree on a Team Captain prior to purchasing tickets
- When buying your tickets, indicate your Team Name and Team Captain
- We strongly encourage that all teams set up a group text or similar texted-based means of communicating during the event so they can discuss answers while listening to the questions
*** The Team Captains will be emailed the Zoom link and Answer Sheets for the event at 1pm EST on August 26th, 2020. ***
Venue Information: