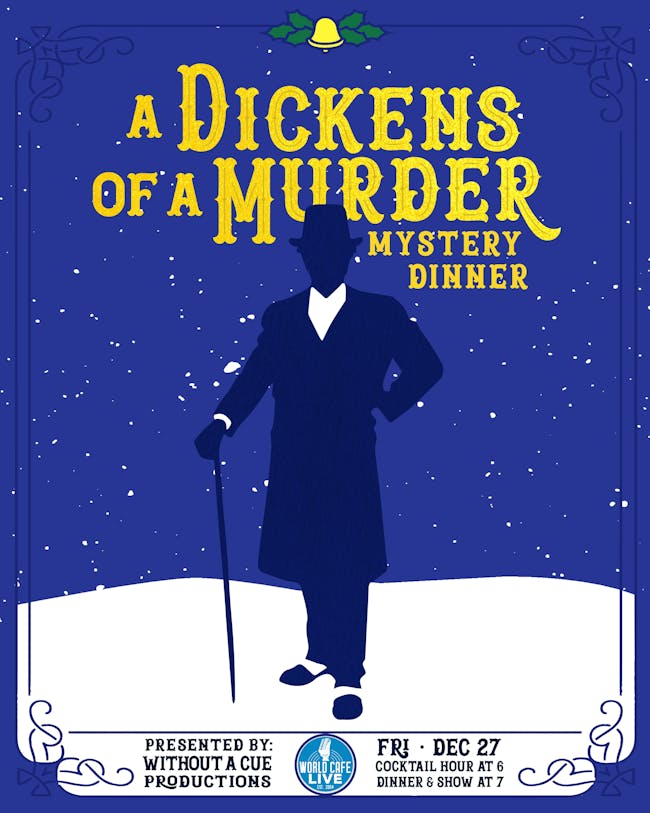 Presented by World Cafe Live and Without a Cue Productions
A Dickens of a Murder Mystery Dinner
World Cafe Live Philadelphia
A Dickens of a Murder Mystery Dinner appearing at World Cafe Live in Philadelphia, PA.
BACK BY POPULAR DEMAND!
BAH! HUMBUG! Ebenezer Scrooge is known for his miserly, uncompassionate ways, but he's a changed man! He's been practically giving his money away! Scrooge's nephew, Fred Sawyer, is throwing a Christmas party and everyone is delighted for his appearance! But what's this? Sherlock Holmes?! What could he possibly want at a Christmas party? You soon find out that he's investigating dear Scrooge's murder! As more guests arrive and the Sawyer's servant, Mrs. Dilber, attempts to spit-shine your spoon, you are Sherlock Holmes' aid! Help him ferret out the guilty party and make note of the clues he discovers along the way. This Christmas party's a hoppin', but there's a murderer a knockin'! This evening definitely will be A Dickens of a Murder!
6pm: Cocktail Hour with Passed Hors D'ouerves and Festive Themed Cocktail Cash Bar
7pm: Show Begins
7:45pm: Intermission and Entrée Served
9:30pm: Brief Intermission and Dessert Served
10:30pm: Event Conclusion
All food is included with your ticket purchase and will be selected at checkout. Drinks can be purchased from the bar during cocktail hour and intermissions.
Entree selections include:
Spaghetti squash with cauliflower, Tuscan kale, orange bell peppers and sundried tomato pesto sauce (Vegan)
Fig glazed duck confit with sweet potato risotto and garlic roasted haricot verts
Bison meatloaf with brown butter whipped Yukon gold potatoes and balsamic glazed Brussels sprouts
Dessert will be a Caramel and Rum Bread Pudding
Please note, all tickets purchased together will be seated together.
Recommended for guests age 16 and over.

Please be aware that a theatrical gunshot is used in this production.

Venue Information:
World Cafe Live Philadelphia
3025 Walnut Street
Philadelphia, PA, 19104